Allie Mikenna
Allie graduated from the University of Iowa with a degree…
Every season brings new "it" shades and "must-haves" that are easy to covet, but aren't always so friendly on the wallet. So rather than invest $50-100 in new statement fashion pieces each season, I prefer picking one or two staple nail polish shades and expressing my favorite, fashion-forward fall colors on my nails instead of the rest of my body. I love these five fall colors, inspired by some of the 2015 fashion week runway shades.  
I happened upon this brand when I got one of their nail polishes in my Ipsy glam bag and instantly fell in love. The names of each polish are tongue-in-cheek and hit home with the millennial audience they are targeted to (my personal favorites are "I'm Kind of a Big Deal" and "London Snog" but they are all pretty great). This deep red is similar to the Pantone Marsala swatch seen on the runways, but this shade is a brighter, deeper red which I prefer. At $15, this brand is a little pricey, but it's made in the USA and their polish is five-free (so it doesn't have the "big five" harmful chemicals formaldehyde, formaldehyde resin, toluene, dibutyl phthalate or camphor).
Julep polishes are five-free and vegan-friendly  since they have no animal ingredients or byproducts. They also boast a formula with strengthening hexanal and antioxidant green coffee extract which helps make nails stronger, along with fast-drying oxygen technology so more oxygen reaches your nail bed. All of that may sound "too good to be true," but I did notice a big difference in the health of my nails after wearing their polishes. This deep purple shade is perfect for fall. Pair it with a navy, light blue, or the dark blue-grey seen on fall runways.
I tend to gravitate to really dark grey polishes during the fall and winter. This deep metallic is equal parts dramatic and elegant. It's perfect for a night out paired with your favorite red or little black dress, but can also be toned down with monotone whites, greys, or blacks for work during the day.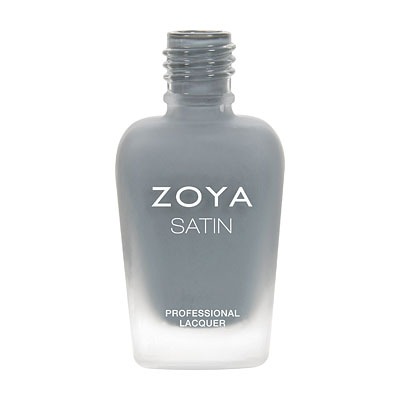 Zoya is another toxin-free brand that comes without the Big Five chemicals. This grey-blue shade is similar to the Pantone Desert Sage swatch that was seen during New York Fashion Week. Because of the formula, this brand does go on lighter that others on the list, so it needs an extra coat. But it goes on smoothly and lasts at least a week. Pair this shade with dark greys, blacks, and reds.
This teal reminds me of the Pantone Biscay Bay swatch, and fits with the blues that were all over the catwalks for this season. The middle range price makes this one of the most affordable on the list. It's not a bargain drugstore brand by any means, but it's not as expensive as some of the more organic brands (and it's DBP, toluene, and formaldehyde free too). Pair it with navy, grey, pink, and the orchid purple seen on the runway to bring a breath of fresh air into your fall wardrobe.
What's your favorite fall polish? Tweet us @litdarling
Fashion Writer
at
Literally, Darling
Allie graduated from the University of Iowa with a degree in English and Communication Studies. She loves the Midwest despite the freezing winters. She spends a lot of her free time wishfully online shopping and dreaming of a day when she has the budget to afford all the items she places in her virtual carts. She is always in search of a good deal and is a self-proclaimed sale-shopping expert. She loves binge-watching TV shows on Netflix, staying up late immersed in a good book, and eating (especially dessert food).
Latest posts by Allie Mikenna
(see all)
Related