By Halle Mason
A rom-com once told me that every woman has the exact love life she wants. No matter how many times I watch The Wedding Date, this line forces me to mentally pause and reflect on my own dating life. I mean, I don't think that I want to be single, but maybe there's some truth to this?
I watch The Wedding Date. I reflect. Still single. Months pass. I watch it again. I reflect. Still single. I've been single for over a year, and I have a hard time believing that it's because I can't find a nice guy to date. (They can't be all bad, right?) I've come to the conclusion that I subconsciously sabotage my own dating life.
I have standards just like anybody else. But it's not that nobody can meet them. I'm not under the illusion that Liam Hemsworth is going to leave Miley Cyrus (again) for me. With that being said, there always seems to be a nagging reason not to date somebody.
Reasons like, I'm going to be back in Nebraska for the summer, and it's already March, so what's the point in starting a relationship? I'm traveling to Madrid for a semester abroad next year, and I want to be single for that, so why try and date anybody now? We'd just have to breakup before I leave. I put myself in these time constraints that prohibit me from any vague semblance of a dating life.
This is no way of living, and my dating life cannot go on this way. With the idea that I can have any dating life I want if I just change my attitude, I've started to be more outgoing with meeting guys.
Curious to know how that's going? Terribly.
I met one super cute guy (tall, perfectly trimmed scruff) at the Toyota car dealership of all places. After my car was fixed, I jotted my number down on an old coupon, handed it to him, and said, "Hey, so you're super cute, give me a call sometime." I got a resounding yes from his big, goofy (perfectly straight teeth) grin. (Plus, he actually said, "Oh…my god. Yeah!)
Toyota boy (as we'll call him) texted me once he got off work and we exchanged flirty texts for most of the night. And guess what happened the next day? Nothing. And the next? Still nothing. He'd asked me out on a date, but then I literally never heard from him again.
I'm going to repeat my question: Does every woman have the exact love life she wants? The word "exact" throws me here, because there are a lot of lurking variables that can affect a person's dating life.
Winter poses a problem. Ross Geller from Friends understands how winter can be a restricting factor, because there are fewer people out on the street. This lack of human contact can lead to the inability to communicate coherently when prompted with someone attractive, so you end up looking like this when meeting someone of the opposite sex.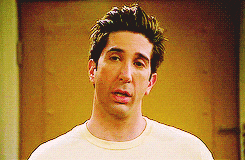 I don't think he's getting any tonight.
Sorry.
Another prominent problem is when you meet someone dateable, but that person is already in a relationship with someone else. This happens to me all the time. My friends and I have a running joke that the best guys are all either gay, taken, or seminarians.
This is pretty much my response when I have to listen to a cute guy talk about how lucky he is to be dating his girlfriend.