Twenty-Something Tuesday
Everyone has those "I literally cannot," moments throughout the day. On this Twenty-Something Tuesday, we at Literally, Darling attempt to catalogue and visualize those incredibly maddening pet peeves, also known as  Literally the Worst Things Ever, through the internet's universal language: GIFs.
MRAs trolling me on Twitter:
Biting my tongue, or the side of my mouth, and then unwittingly biting that same spot over and over again:
My computer being old and cranky, and taking forever to do anything:
Engagement ring photos from the same person every week:
Boys and men walking around with their underwear sticking out of their pants like they're the shit: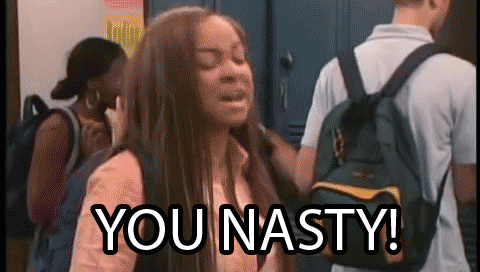 Hospital patients wheeling with their IV saline out the front doors for a quick smoke break:
Excessive PDA:
"Lifestyle blogs" written by boring college kids:
Slow walkers:
Watching the pasta not boil for five minutes, walking away for 23 seconds and coming back to it boiling over:
Being in a hurry and realizing you forgot to turn on your heat tool 10 minutes ago when you thought you did:
Someone sitting next to you in an otherwise empty movie theater:
Sneezing on your period:
When your article due date is coming up and you still don't know what to write:
People who assume archivists sit in dusty basements all day:
Groupchat:
People who don't read Harry Potter:
Being hungover:
When you let someone over and they don't give you the courtesy wave:
Neighbors who let their dogs bark continuously for hours:
People who sweat all over the exercise equipment but don't wipe it down:
Roommates stealing your food:
When people respond to long text messages with one word (or worse, one letter):
Trying to wash dishes and touching wet food:
Youths:
Natalie is, despite her best efforts, somewhat of an adult. Ish. A resident of the San Francisco Bay Area, a film student at UC Santa Cruz, and an avid Harry Potter fan, Natalie spends too much time on the internet avoiding major responsibilities. Unless it's baseball season. Beneath snark and sarcasm lies a proud feminist with a sailor's mouth and the occasionally witty and/or intelligent remark. Or so she hopes.
Related