How many times have you gotten to a major travel destination and been massively let down?
Can the Statue of Liberty really live up to its hype? Is the Empire State Building really worth the ticket price? Can we just skip Rome's lines altogether? Guidebooks may be great at telling what times to avoid these places, but in reality it would be nice to know what you can bypass entirely. Besides, have you ever really gotten to know a place by going to the places where the locals wouldn't be caught dead? Probably not.
So here's our list of what to skip and where you should go instead.
Skip: Cafe Du Monde, New Orleans, Louisiana
Do you enjoy standing in line for hours with masses of people toting oversized cameras dripping with sweat next to you, all to get a few pieces of fried dough weighed down by mounds of powdered sugar? If not, then skip this over-hyped cafe in the heart of the French Quarter. There are much more delectable treats found outside this tourist mecca, and while the chicory coffee is admittedly quite delicious, you're better off buying a tin and brewing it yourself in the comfort of your own home.
Where to go instead: District Donuts Sliders and Brews
During my semester studying in NOLA, Magazine St. was one of my favorite food destinations, and this is a place I went to again and again. From the robust drip coffee to the inventive donuts, they have something for everyone. My personal favorite is the Pad Thai donut (crazy, right), but they have everything ranging from a classic glazed to a take on a New Orleans staple, Red Beans and Rice. Plus, for those of you craving that Cafe Du Monde experience, they have a beignet donut filled with chicory coffee cream and covered with powdered sugar!
Skip: Stonehenge, Wiltshire, England
What you don't see from the gorgeous photos of Stonehenge is that it's between two motorways, one of which you have to walk under to even get to it. There's nothing so peaceful as prehistoric relics being viewed to the soundtrack of rushing cars. You also cannot get anywhere near it, as it's roped off entirely. So instead you walk in a circle around it holding walkie-talkies up to your ears.
Where to go instead: Snowdonia, Wales
If you want to see rock circles there are literally hundreds of others less famous spread out over Britain. But if you really want to feel like you're in prehistoric Britain, head to Snowdonia National Park in Northern Wales. Snowdonia is the highest peak in England and Wales, and its untouched glory will make you feel like the early Britons and Celts. Skip the railway to the top in Llanberis and make the hike instead. It's well worth it and you'll forget modernity even exists.
Skip: Navy Pier, Chicago, Illinois, U.S.A.
Navy Pier is one of the biggest wastes of time and energy in all of American tourism. This god-forsaken place was designed to be a tourist attraction. Their main goal is to get you to buy things and the shops and vendors have little or nothing to do with Chicago's rich, beautiful, and (let's face it) shady history. Now that the Ferris Wheel is gone there isn't even a view, not to mention that it is insanely crowded and hot in the summer. You're better off flushing $75.
Where to go instead: Maggie Daley Park, Chicago, Illinois, U.S.A.
If you like the idea of nostalgic, summer days from your childhood, this is a much better option than Navy Pier. Yes, it is still quite touristy, but hear me out. It is a giant jungle gym for adults! You'll have way more fun and spend much less money by hanging out with adults and kids alike that just want to play. Plus, it is much closer to other attractions and museums than Navy Pier.
Skip: Sears Tower, Chicago, Illinois, U.S.A.

Yes, yes, it's the "Willis Tower," I know. However, you can bite me. Sears Tower forever! Really it doesn't matter though, because it's another big waste of time and money. First you get in the longest line known to man and give up your first born child for an entrance fee. Then, you ride up and hack off your right arm to enter a skybox for a few minutes to see the view. Yes, the view is great, but there are much better ways to appreciate Chicago's incredible architecture. Save yourself the money and the hours.
Where to go instead: Architectural Boat Tours, Chicago, Illinois, U.S.A.
This is a great way to pay homage to Chicago's architecture, especially if you are a history nerd… I mean buff. Take a couple of hours to ride on a boat up and down the Chicago River (which has a very interesting history itself!) and learn about many iconic buildings that The Second City has to offer. You will even get to see the Sears Tower! These buildings span from Art Deco to completely postmodern. You'll not only get to appreciate the buildings, but learn about their rich history (and spend way less money doing so).

Skip: Doctor Fish Foot Spa, Athens, Greece
Maybe I was just a bit preoccupied with all the statues, ancient monuments, and ice cream, but when I went to Athens I had no idea that this place was a ~thing~ but it is. Some other people in the group I went with were dying to go have little tiny fish eat off the dead skin from their feet, and I just was not feeling that. So, some other people and I found an even better place. Like insanely better, y'all.
Where to go instead: Lake Vouliagmeni, Athens, Greece
So technically this is a little outside the city center of Athens, but it's still accessible by city bus. It's also a hot springs, so even though I went in April when it was still a little chilly outside, the water was perfect. This lake is gorgeous, and only has an entrance fee of about 7 Euro, versus the 30 Euro pedicure at the foot spa. Not only is Lake Vouliagmeni a gorgeous swimming hole, but it's also equipped with it's own flesh-eating fish! The little suckers gather at the shallow ends of the lake and will nibble away your dead skin just like the ones in the foot spa. However, swimming in the rest of the lake is very free of the little guys, so no worries if that's not your thang. Lake Vouliagmeni also comes with the added bonus of having an on-site restaurant that serves AMAZING mojitos and greek salads.
Skip: Plaza Mayor, Madrid, Spain
While actually quite pretty and rich in history, Plaza Mayor is surrounded by annoying vendors looking to rip you off and boasts no outstanding restaurants to speak of. If anything it is worth a quick walk through and a photo or two, but if you're in a rush feel free to skip right over this one.


Where to go instead: Mercado de San Miguel, Madrid, Spain
Just a few blocks away from plaza mayor is probably my favorite place in Madrid. Mercado de San Miguel is an indoor market stationed inside a wrought-iron and glass structure, full of some of the best flavors and smells I've ever encountered. An excellent place for a foodie or someone with only a short amount of time to spend in the city, here you can sample small portions of all of Spain's most popular foods (paella, jamon, etc.) and also have some lesser-known (but equally fantastic) dishes.


Skip: Union Station, St. Louis, MO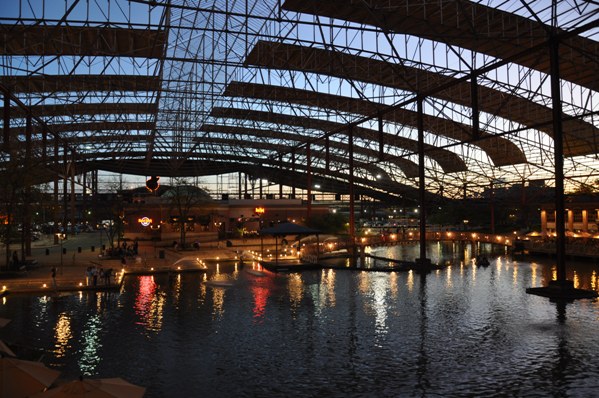 The concept of Union Station is really cool—it's one of the oldest/biggest train stations in the Midwest and has since been turned into somewhat of a mall-for-tourists, stocked with your classic trinket shops, taffy stand, and a Hard Rock Cafe. Also, a lot of the shop fronts are empty, and in general it just makes me kind of sad.


Where to go instead: Forest Park, St. Louis, MO
Forest park is the biggest city-based park in the U.S., designed by the same person as Central Park in New York. Throughout Forest Park you can find the Art Museum, the St. Louis Zoo, the History Museum, the Science Center, and enough picturesque views to stock your Insta with for weeks. There's something here for everyone and definitely with your time. Best part: All of the places listed above are completely free.
Which tourist places do you think should be skipped? Comment below or tweet us @litdaring
Gretchen grew up in a small farming community in Northern Illinois, an area in which she still resides with her husband, son, and their mutt, Maverick. She likes cooking, volunteering at church, and most of all loves children. It's a quiet life, but a good life.
Latest posts by Gretchen Sprinkle (see all)
Related